▶ Home ◀
▶ YouTube ◀
Model Railway Express e-Magazine
▶ www.mre-mag.com ◀
The "Model Railway Express eMagazine" is an online publication produced by a group of model railway enthusiasts in the United Kingdom. In the magazine there are high-quality reports and even guidebooks for railway modelling. Pilentum Television would like to support this great work of volunteers and has received permission to make all issues of this beautiful magazine available for download. Below you will find a lot of pdf documents, for free.
Looking for the latest issue?
Get the latest news and reports on Model Railway Express eMagazine's website, for free.
Just click on www.mre-mag.com.
---
MRE Magazine N° 20
PDF E-Book
98 pages
4.99 MB
▶ Download ◀
Contents
Railway Refreshments: Hassop station café
Narrow gauge: Carters' Bridge
Narrow gauge: Paul's Page - On30 - weathering
Narrow gauge: 2020 0n30 Annual & Port Wynnstay
Renewing Britain's Railways: Scotland
Something Different: The Steampunk World of Bassett-Lowke
Hornby Celebrates 100th Anniversary!
Midlands Garden Rail Show
GWR Foot Bridge for Chew Magna
The Extraordinary Daddy-Long-Legs Railway of Brighton
SVR achieves record locomotive availability levels
Lady of Legend heads to SVR Spring Gala
Erith Model Railway Society-Exhibition
Chew Magna - A workshop day
First generation Scottish DMUs
Figure Painting Vice – product review
Measuring Loco Stall Current
Simple Lighting Stay-Alive Circuit
Train Control Systems Opens UK Office
---
MRE Magazine N° 19
PDF E-Book
168 pages
7.74 MB
▶ Download ◀
Contents
Railway Refreshments: The Final Whistle, Southwell
Railway Refreshments: Franschhoek Station Pub & Craft Bar
A Day in the life of Santa!
Soundtraxx announces new 21 pin mobile decoder
Thoughts on Great Central Railway's Exhibition
Lightweight Scenery
Big Steam, Narrow Steam and Shiny Nails - Part 3
Winelands Light Railway - One Man's Railway
The Midland Region in the 1970s and 1980s
Chew Magna - Part 3
Freight in the Peak District
Second Generation DMUs
Midlands Model Engineering Exhibition 2019
London Model Engineering Exhibition 2020
The 1896 Light Railways Act
The Station Master's Apartment, Strathcarron
Railways at Night, From dusk til dawn
Midlands Garden Rail Show
Large Scale Tram Models to Operate at Crich
Hopefield Branch - part 3
Hill's Tramroad - Blaenavon World Heritage Site
Railcars
---
MRE Magazine N° 18
PDF E-Book
168 pages
8.73 MB
▶ Download ◀
Contents
Railway Refreshments - The Harrogate Tap
A Day In The Life Of – A SVR Signalman
Class 26, 27 and 33 Locomotives
Cummins open day 2019
Norwich station
Eastern Region in the 1970's and 1980's
Emsay & Bolton Steam Railway
Britain's Railways in Transition 1976-1990
Santa Specials return to Bridgnorth for first time in 40 years!
Class 67 and 68 Locomotives
Chew Magna Part 2 - Progress
Shed Bashing in the 1970s and 1980s
Bristol Traction
Ghost, ghouls, wands and wizards at the SVR this October half-term
Class 87 Locomotives
Railways of the Western region in the 1970s and 1980s
7/127A GWR standard water tank with conical top and fire devil-O Gauge
Locomotives of the Victorian Railway
The Early Days of Steam
London Model Engineering Exhibition 2020
Bankside vegetation
Great Eastern Goes Digital!
Midlands Model Engineering Exhibition
Valve gear upgrade for Backwoods 0-16.5 NGG16 Garratt
Modelling South African Railways Two Foot Gauge in 1/43 or 7mm Scale (aka the Hopefield Branch) - Part Two-Rolling stock
Modelling 3 Ft Gauge Railways in 5.5mm Scale
On30 on the cheap!
Big Steam, Narrow Steam and Shiny Nails - Part 2
Ugandan Railways - Kampala Station
Big Steam, Narrow Steam and Shiny Nails - part 2 (continued)
BNSF Railway
---
MRE Magazine N° 17
PDF E-Book
212 pages
9.66 MB
▶ Download ◀
Contents
A Day In The Life Of – Volunteer Station Staff at Kidderminster station
Railway Refreshments: The Sidings Hotel and Restaurant
TCS universal wifi throttle release
Henry Greenly: The true father of railway modelling
Model Locomotive Database – An appeal for help
EDM Models new website launched
The Architecture and Infrastructure of Britain's Railways: West Midlands, Wales and the West
The LCut J 00-00 Industrial Weighbidge With Lorry Scale
Skytrex O Gauge SMR38K Lowmac Wagon Kit-B.R.25ton Dia g.2/242
Accurascale Announces the PTA/JTA/JUA Tippler Wagon in OO Gauge
Railway and Tramway Bodies Another Life
Skytrex 7/06 GWR Corrugated pagoda building
Thinking out of the box - how to model in a (very) small space
Steam in the British coalfields
Chew Magna
Britain's Railways in the 1970s
Railways around Worcestershire
The Midland & South Western Junction Railway through time
Young Modeller - The LCut 00 Gauge Weighbridge
A Very British Summer at the SVR!
Survivors of Beeching
Great Eastern Models and the Brexit layout
The Chester & Holyhead Railway – the modern scene
Saltley deport from the 1960s to closure
Trains around Peterborough
Accurascale Class 92 In Tooling
Union Pacific Railroad
Big Steam, Narrow Steam and Shiny Nails
Turkish Steam Railways
Modelling South African Railways Two Foot Gauge in 1/43 or 7mm Scale
Iberian Railways
Hungarian Railways
5.5mm Scale Modular Group
---
MRE Magazine N° 16
PDF E-Book
130 pages
12.1 MB
▶ Download ◀
Contents
TT3 For Ever (Scale 3 mm to the foot, gauge 12 mms)
Building a new identity for an old layout (Or upgrading Happisburgh Goods for the future part 1)
Beyer, Peacock & Company of Manchester
Europe by Sleeping Car
Britain's Heritage: Holiday Trains
THE LAST DAYS OF STEAM IN NORTH EAST ENGLAND
London Rail Freight since 1985
The Scottish Railway Scene
Railways around Hereford
Rail Rover; Wessex Ranger
Out and about – Estacio de Franca, Barcelona
Step back to the 40s at The SVR!
Theft at the GCR Model Event 2019
Accurascale Class 92 In Tooling
---
MRE Magazine N° 15
PDF E-Book
130 pages
22.5 MB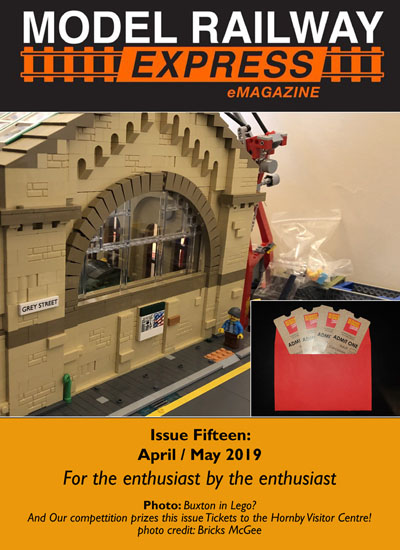 ▶ Download ◀
Contents
Great Model Railway Challenge & the Track Laying Ninjas!
Building a LEGO railway station - Buxton
The building of RE-UNITED BISCUITS Ltd. A broken biscuit repair factory
A starter in O gauge: part 1 – ideas and plans
Happisburgh (Heysborough) Goods Retires From The Model Railway Club
London Traction
Wiltshire Traction
Railways of the South East since the 1970s
War of the Terriers: A review of the Hornby and Dapol/Rails of Sheffield offerings
Nameplates The Story Behind The Names
Midland Railway Stations
Local clubs to demonstrate at Model Mania exhibition
---
MRE Magazine N° 14
PDF E-Book
142 pages
13.2 MB
▶ Download ◀
Contents
Skill what skill?
Hornby 2019 Range Highlights
Erith Model Railway Society Model Railway Exhibition 26 th and 27 th January 2019
Scalextric News & There's Something for All Ages
Corgi 2019 Range looks to the past for the future
Getting Value For Your Money
Adding Skytrex Detail to Snow River Railroad
My Granddaughter's Little Layout
Rising to the Challenge! – Part 3
Great Britain's Railways: a New History
LOCOMOTIVES OF THE EASTERN UNITED STATES
The Railways of Wales in the 1960's
A day in the life of an engine driver
Arriva Trains Wales
AVELING & PORTER
Cornish Traction
Steam Across the Pennines
The Great Way West – London to Cornwall by Rail
Pre–war steam
The Kyle of Lochalsh and far north lines
Cloughton Station tea room
---
MRE Magazine N° 13
PDF E-Book
156 pages
10.4 MB
▶ Download ◀
Contents
Wagons; that's enough to make some readers turn the page. But why?
Grove Street Yard - Modelling Scrap
THE PERMANENT WAY MY METHOD OF TRACK LAYING
Britain's Steam Reserve: Myth, Defunct, or Extant?
Sandwich Haven Publicises Chaucer University
Guardians of Social History
Is DCC really all that modern?
Rising to the challenge! part 2
country railway routes Mansfield to Doncaster via Shirebrook and Shireoaks
Deltic in 4mm, By Accurascale
CLASS 56 LOCOMOTIVES
Plasser General Purpose Crane in OO The first modern image RTR crane in OO
INDUSTRIAL LOCOMOTIVES & RAILWAYS OF YORKSHIRE
THE STEPHENSON RAILWAY LEGACY
LOCOMOTIVES OF WESTERN CANADA
LMS Beyer Garratt in N From Hattons
The Pacer
TYPE 4 LOCOMOTIVES OF BRITISH RAIL
GERMAN TRACTION
THE LATER YEARS OF BRITISH RAIL 1980-1995 VOLUME THREE - WEST MIDLANDS, WALES AND SOUTH-WEST ENGLAND
Intercity 225 class 91 locomotives and Mark 4 coaches
London Terminal Stations In The 1960s
---
MRE Magazine N° 12
PDF E-Book
160 pages
11.7 MB
▶ Download ◀
Contents
Flagg Fluorspar – Part the Third
Additive manufacturing – What's it all about?
Construction of a models of a SAR/Spoornet Class 34 and 35 diesel locomotives
The Call of the Great Eastern Railway
MOUNTAINS OF MONKEY DUNG
An Unusual Prototype we can all model without realising
Blairgowrie Forrest Railway
Rising to the Challenge!
The Rainhill Trials
British Railway Accidents In Maps And Pictures
TYNESIDE ROAD AND RAIL SERVICES
MERSEYSIDE TRACTION
MINIATURE RAILWAY LOCOMOTIVES AND ROLLING STOCK
Class 90 locomotives
The Fifties Railway
RAIL ROVER: WEST MIDLANDS RANGER
Fifty Years Since The End Of Steam Britain's Railways 1968–2018
Class 91 locomotives
DB Cargo Locomotives and Stock in the UK
GT3 Gas Turbine – OO Gauge project
Electric locomotives on Scottish railways
A Family Day out at the Romney Hythe & Dymchurch Railway
---
MRE Magazine N° 11
PDF E-Book
160 pages
29.0 MB
▶ Download ◀
Contents
Flagg Fluorspar – Part the Second
The Slim Gauge Circle North American Narrow-Gauge Modeling in the UK
When it reaches the end of the line – layout dismantling and recycling
Brine Leas School project nears completion
Dockside Delight from Dapol & Heljan
My South African Model Railway - Part 2
Isambard Kingdom Brunel: The Life of an Engineering Genius
Freight Car Handbook
On30 Annual 2018
Southern Region Through The 1960s Year By Year
Southern Region Through The 1970s Year By Year
1960s Southern Region Steam In Colour
Cliff Railways, Lifts and Funiculars
125 – The Enduring Icon
A Collective Review Of Books On Scottish Railways
Bulleid Pacifics
GT3 Gas Turbine – OO Gauge project
Railway Refreshments: Oswestry & Welshpool
125 Group and HST Preservation
Milton Keynes Model Railway Society Golden Jubilee exhibition
---
MRE Magazine N° 10
PDF E-Book
154 pages
12.1 MB
▶ Download ◀
Contents
THE BIRTH OF ANGELL CREEK
Friends of the National Railway Museum
Merry-go-round trains - an NCB MICRO in 2mm N gauge
Micro Layouts in 16mm – How it All Started
My South African Model Railway - Part 1
Hamilton to Claudelands NZR 9mm/P34 Layout
What Future for The Model Railway Hobby?
Why Plastic and why In 9mill!
NARROW GAUGE LOCOMOTIVES
THE NORTH BRITISH LOCOMOTIVE COMPANY INDUSTRIAL LOCOMOTIVES & RAILWAYS OF THE NORTH WEST OF ENGLAND
The Great Northern
Smart Models Magnetic Right Angle Clamps (2 Pairs Small, Medium and Large)
Rio Grande – The Early Years
SIGNALLING AND SIGNAL BOXES ALONG THE NER ROUTES VOL. 2 DURHAM, NORTHUMBERLAND AND CUMBRIA
BRITISH RAIL IN THE 1980s AND 1990s - ELECTRIC LOCOMOTIVES, COACHES, DEMUs AND EMUs
Freight Car Handbook
The Old Station Inn & carriage restaurant, Hallatrow, Somerset
---
MRE Magazine N° 9
PDF E-Book
174 pages
11.8 MB
▶ Download ◀
Contents
Irish Broad Gauge in 7mm - Arigna Town
Getting A Drivers Eye View - Building A Camera Wagon
Model railways as theatre
Maintenance and performance
Boghampton
The British Railway Stories Great Western Glory: Lone Star
A quick start guide to using your airbrush
3d Modeling in Solidworks and use of Rapid Prototypes
Signature Layout: Tinsley TMD & Yard
Railway Refreshments: Platform Ale House, Albrighton station, Shropshire
The end of midland steam in the north west
Chinese steam - the last years
East German steam in the 1970s
South African steam in the 1970s
30pc Deluxe Craft Tool Set in case
Revolving Head Pin Vice with Reversible Collets
British Coaching Stock
Class 156 DMU's
Italian traction
Swiss traction
Armoured Trains An Illustrated Encyclopedia 1825-2016
The Merthyr, Tredegar & Abergavenny railway
Signalling and signal boxes along the NER routes VOL. 1 - Yorkshire
Signalling and signal boxes along the North British Railway, Great North of Scotland Railway and the CLC routes
London Midland - Ten years of service
Invicta Model Rail 38-125Y RTC Trib Van Arrives
Invicta Model Rail to release OO Fisons Weedkilling Coach Pack
Invicta Model Rail's First 009 Release
New model railway show
---
MRE Magazine N° 8
PDF E-Book
174 pages
19.1 MB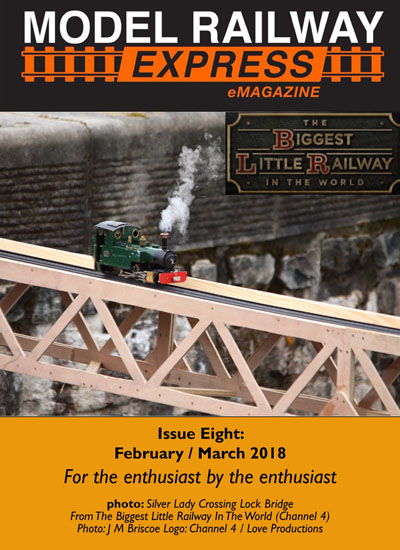 ▶ Download ◀
Contents
Bolton Trinity Road – Garden extension
Rebuilding an N-Gauge Layout for an Elderly Modeller in Spain
A Prototype For Everything
The Biggest Little Railway in the World – A Contributor's View
An introduction to airbrushes
1970's London In A Box File (Carter Street) – Part 2
Tennessee Extraction Co Railroad Or the story of two modules
A Phoenix Rising: The St Bees Light Railway
Signature Layout: Tinsley TMD & Yard
BRITISH RAIL IN THE 1980s & 1990s Diesel locomotives and DMUs
CLASS 70 LOCOMOTIVES
The Great Railway Stations of Paris
Grandt Line Review
H IS FOR HORNBY!
Slater's Plastikard - MEK-PAK Holder
NORTH EAST TO SOUTH WEST BY RAIL IN THE 1980s
Skytrex Models 3 Oil Drums
Hornby Announcements 2018
Railway Refreshments: The Sheffjeld Tap
---
MRE Magazine N° 7
PDF E-Book
136 pages
16.2 MB
▶ Download ◀
Contents
Building 'Bolton Trinity Road'
Easy and effective cliff building
Micro Layout: 1970's London In A Box File
Working with resin cast model kits
Signature Layout: Tinsley TMD & Yard
BR Blue in the 1970s and 1980s
Locomotives at BR Workshops
Barry Scrapyard
Benelux Railways
Industrial Locomotives & Railways of The Midlands
HORNBY'S NEW 'DUCHESS' PLUGS A GAP IN THE MARKET
Modelling heavy industry: A guide for railway modellers
Modelling tunnels, embankments, walls and fences for model railways
Stanton Iron Works 7 plank wagon
Theft of Exquisite Model Railway Wagons
Friends Of The National Railway Museum Win MRE-MAG Trophy
A Day In The Life Of Santa On The Great Central Railway
---
MRE Magazine N° 6
PDF E-Book
122 pages
9.05 MB
▶ Download ◀
Contents
Around A Day in the life of the Warley MRC Exhibition Manager
Railway refreshments: The Old Station, Tintern
Kohler Confidential Don't look back in anger (part 2)
The GWR MICA A/B Vans
Oxford Rail get ready for war!
Modelling The Southern Region 1948 to the present
Heljan go all narrow minded!
33rd Uckfield Model Railway Exhibition
MRC Mini Exhibition
London Model Engineering Exhibition
Darlington Model Railway Club exhibition
GWR Bullion Van
Trials and Tribulations of Exhibiting
Creating a realistic farm
The Famous Trains model railway
---
MRE Magazine N° 5
PDF E-Book
112 pages
5.59 MB
▶ Download ◀
Contents
Railway refreshments: Centurion Bar, Newcastle Central Station
A Day in the life of a Guard on the Gloucestershire Warwickshire Steam Railway
Kohler confidential
North British Railway Wagons
Ferroequinology!
Firing in the shadow of legends: The BR 9Fs and me
N Graham Farish Mk1 GUV Satlink Western 374-135
A history of the East Coast Main Line
N Graham Farish GWR Castle Class 4-6-0 372-032
00 Bachmann LNWR Webb Coal Tank 0-6-2T 35-052
00 Bachmann Thompson Composite Corridor Coach 34-41
Hornby re-issue three classic express locos: Castle, Britannia and A4 in 00
00 Bachmann E4 Class 0-6-2T 35-079
Oxford Rail come up with the goods
00 Bachmann Jubilee Class 4-6-0 31-190
Tri-ang collectables
N Graham Farish JGA Bogie Hopper Wagon 377-103
Langston Bridge
Foxbile Brewery: A Pointless Layout
East Kent Model Railway Society
---
MRE Magazine N° 4
PDF E-Book
90 pages
4.66 MB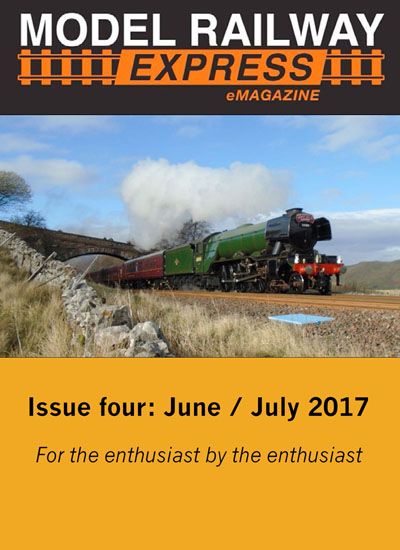 ▶ Download ◀
Contents
Railway refreshments: The York Tap
Wagon of the month: The LMS Cattle Wagon
Modelling goods trains
The three millimetre addiction
Model Railway Ensurance
A plethora of bicycles
Dirty British coaster with salt-caked smoke-stack
A day in the life of a Duty Traffic Manager
BR blue — a quick look behind the scenes
Skytrex Models: 2 sliding wooden doors & runners
Modelling signal boxes for railway layouts by Terry Booker
L Cut creative water tower
Skytrex models: Brick gable end low relief parts
In the Navy with Hornby's new Merchant
Country Railway Routes
The National Tramway Museum
---
MRE Magazine N° 3
PDF E-Book
140 pages
6.28 MB
▶ Download ◀
Contents
A Day In The Life of a photo charter photographer
Wagon of the month: LBSCR wagons
Modelling the Ware, Hadham and Buntingford Railway
Semaphore signals in Australia
Earlingham – Dorking & District Model Railway Club
Make it dirty; Hornby's Peckett, modifying, detailing and making dirty
Wessex lines - The story of a layout
The 3mm Challenge
Rural realism
Snowy River Railroad: On30 Modular Layout
Graham Farish New N Gauge Range for 2017-2018
Trackside & Waterway Kits A Cut Above the Rest!
Birtley (CC) Model Railway Engineers Annual Exhibition 2017
Newton Aycliffe Rotary Club
Model Rail Scotland
The Lincolnshire Coast Light Railway
Railway refreshments: the Ludlow Brewing Co.
Sutton Locomotive Works Class 24
N Graham Farish Weathered Coke Wagon 377-206A
00 Bachmann 5-plank Wagon Carlisle Co-op 37-073
00 Bachmann TTA Tank Wagon in Aviation Fuel 37-587
00 Bachmann New Thompson Coaches
Modelling railways in O gauge by John Emerson
00 Bachmann 5-plank Wagon Carlisle Co-op 37-073
N Graham Farish GWR 5-plank wagon 377-061
00 Bachmann Network SouthEast Mark 1 BG 39-188
00 Bachmann Mk1 Scotrail Coach Pack 39-004
00 Bachmann NSE Brake Van Set 38-990
00 Bachmann PO 21T Bulk Grain Wagons 38-603 and 38-604
Dapol 68 is great
N Graham Farish BR Mk1 Coaches in NSE Livery
Double delight from Heljan
00 Bachmann BR Auto Trailer 39-579
00 Bachmann BR(SR) PMV (Parcels & Miscellaneous Van) 39-530
00 Bachmann Class 57/6 in GWR livery 32-756
00 Bachmann EWS Queen Mary Brake Van 33-832
N Graham Farish BR Auto-Trailer 374-611
N Graham Farish BR Mk1 NEA BG Coach 374-044
---
MRE Magazine N° 2
PDF E-Book
102 pages
4.69 MB
▶ Download ◀
Contents
Bachmann BR Mk1 Non-Gangwayed Coaches
Trivia: History of Manchester United F.C. (1878–1945)
Fleet Lane
Railway refreshements: The Stalybridge station buffet bar
Bachmann BR Weathered Bulk Grain Wagons 38-600A and 38-602A
Memoirs of a model railway widow
Fitting real coal to a Bachmann pannier tank
Midland Main Lines: Derby to Stoke on Trent
The Bo'ness & Kinneil Railway
Bachmann Class 43 'Warship' Diesels
Hornby's Peckett takes the biscuit
Bachmann in 2017-18
Hornby's coke wagon is full of fizz
Wagon of the month: The GWR Iron Mink
Bachmann Class 101 DMU 32-289
Bachmann GWR 64xx Class Pannier Tank 31-638
A day in the life of a Welsh Highland Railway fireman
Bachmann LNER/BR Brake Vans
Out and about international: The Ostra Sodermanlands Järnväg
Heljan re-issue popular Metropolitan Bo-Bo
Bachmann Weathered & Repaired Wagons
Buntingford to Broxfield on a busy day 1959
Graham Farish TTA Tank Wagons
---
MRE Magazine N° 1
PDF E-Book
72 pages
8.95 MB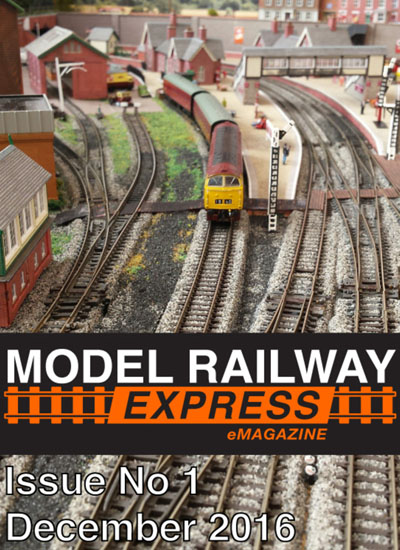 ▶ Download ◀
Contents
Market Havering Station Building
Modelling Around the World: Paeroa to Waihi
Hot Wire foam & Polystyrene Cutter
Tombridge Junction & St Faith's Branch N Gauge layout
Railway Refreshments: The Signalbox Inn
5 in 1 Butane Gas Soldering Set
West Kirby Joint Layout
On30 Hand Car Shack
The 5.5mm Association
Memoirs of a Model Railway Widow
Exhibition Review: Daventry Model Railway Club 2016
Appleby Frodingham Railway Preservation Society
On 30 Victorian Railways NQR narrow gauge wagons
Beko Lights
---
Model Trains on Ebay
Z Scale Model Railways and Railroads
▶ Locomotives ◀
▶ Freight Cars ◀
▶ Passenger Cars ◀
▶ Starter Sets and Collections ◀
N Scale Model Railways and Railroads
▶ Locomotives ◀
▶ Freight Cars ◀
▶ Passenger Cars ◀
▶ Starter Sets and Collections ◀
TT Scale Model Railways and Railroads
▶ Locomotives ◀
▶ Freight Cars ◀
▶ Passenger Cars ◀
▶ Starter Sets and Collections ◀
HO Scale Model Railways and Railroads
▶ Locomotives ◀
▶ Freight Cars ◀
▶ Passenger Cars ◀
▶ Starter Sets and Collections ◀
OO Scale Model Railways and Railroads
▶ Locomotives ◀
▶ Freight Cars ◀
▶ Passenger Cars ◀
▶ Starter Sets and Collections ◀
S Scale Model Railways and Railroads
▶ Locomotives ◀
▶ Freight Cars ◀
▶ Passenger Cars ◀
▶ Starter Sets and Collections ◀
O Scale Model Railways and Railroads
▶ Locomotives ◀
▶ Freight Cars ◀
▶ Passenger Cars ◀
▶ Starter Sets and Collections ◀
1 Gauge Model Railways and Railroads
▶ Locomotives ◀
▶ Freight Cars ◀
▶ Passenger Cars ◀
▶ Starter Sets and Collections ◀
G Scale Model Railways and Railroads
▶ Locomotives ◀
▶ Freight Cars ◀
▶ Passenger Cars ◀
▶ Starter Sets and Collections ◀
Standard Scale Model Railways and Railroads
▶ Locomotives ◀
▶ Freight Cars ◀
▶ Passenger Cars ◀
▶ Starter Sets and Collections ◀
Narrow Gauge Model Railways and Railroads
▶ Locomotives ◀
▶ Freight Cars ◀
▶ Passenger Cars ◀
▶ Starter Sets and Collections ◀
Rare Scale Model Railways and Railroads
▶ Locomotives ◀
▶ Freight Cars ◀
▶ Passenger Cars ◀
▶ Starter Sets and Collections ◀
---
Pilentum Television uses cookies to understand how you use this website and to improve your experience. This includes personalizing content and advertising. By continuing to use this website, you accept the use of first and third-party cookies.
PILENTUM TELEVISION
www.pilentum-television.com
www.pilentum.org
www.pilentum.de