Many people often ask, what video equipment is used to produce high quality model train videos. Therefore, Markus Lenz, the author of Pilentum Television, has written this webpage where you can see many photos of which cameras are in regular use. Apart from the cameras, lighting or additional video light is a necessary element of any video production.
Finally, video editing is the most important task. Although the market offers many video editing programs, only a few systems are suitable to realize a high quality video bitrate and detailed colour correction. For some years, Pilentum's videos have also included music, therefore it is also described below which instruments are used to create the film music.
---
DJI Osmo Pocket Camera
The DJI OSMO Pocket Camera has a three-axis stabilized gimbal that ensures your video footage is smooth and appears professional even when you are operating without the help of a tripod. This tiny handheld camera uses a 1/2.3 inch sensor and shoots video in 4K with 50.00 fps (PAL) and/or ntsc framerate 59.94 fps (NTSC). The camera seems to have been built for rail transport modeling.
You can install the camera only a few millimeters above the rails. It is a real worm's eye view. Pilentum Television has never been able to shoot such video recordings before. Most people shoot model railroad layouts from a bird's eye view. But this is unnatural in relation to the scale. Furthermore, the video footage is perfectly stabilized.
The camera works in HO scale (1/87) and even in N scale (1/160). The small size of the DJI OSMO Pocket Camera is a big advantage! There are now two cameras on the market: The original model DJI Osmo Pocket I and the successor model DJI Osmo Pocket II. Both cameras are used by Pilentum Television. The image quality is perfect.
---
---
Runcam Camera
A few years ago, there was a small cube camera on the market called "Polaroid cube camera". Since this camera is no longer manufactured, Pilentum Television recommends the use of the old RunCam 5 Camera or the new RunCam Orange 4K camera. Both the old and the new "Runcam" are cube cameras, which are characterised by very small dimensions in width, height and length.
The Runcam records photos and videos depending on the configuration file stored on the memory card. The RunCam 5 Camera as well as the RunCam Orange 4K camera are superb cube cameras (dimension: 38 x 38 x 36 mm or 1.49 x 1.49 x 1.42 inches). They allow video recording on model railroad layouts in HO scale and model railways layouts in N gauge.
This camera is mainly used to film cab rides on miniature cars, for example, on the "Faller Road System". Of course, you can also use the camera for filming model trains. Originally, the Runcam was developed for RC flying, especially for drones (video piloting). The camera is equipped with a SONY IMX 377 image sensor and records video files in 4K @ 29.97 fps, 2.7K @ 50.00 fps, 1080 @ 59.94 fps, etc.
While the old RunCam 5 Camera does not have image stabilisation, the new RunCam Orange 4K camera uses electronic stabilisation. The image stabilisation works effectively. It is important to bear in mind that the camera is classified in the low-budget segment on the market. However, the camera delivers a good image in optimal lighting conditions.
---
---
Panasonic AG HVX 200
The Panasonic AG - HVX 200 is a fixed-lens hybrid camcorder. Pilentum Television bought this camera in July 2006. The camcorder allows file-based recording onto P2 cards. The imaging section employs a 3 CCD system with 1/3 inch sensors. The camcorder is capable of recording in several standard-definition and high-definition video formats. The image is always scanned progressively at 1920 × 1080 resolution, then is downsized to target frame size, for example DVCPRO HD 720p (50.00 fps, 1280 × 720) or DVCPRO HD 1080p (25.00 fps, 1920 x 1080). In 720p mode the camcorder offers variable shooting rates for overcranking or undercranking ("Slow Motion").
The HVX 200 camera does record 50 frames per second in HD mode (1280 x 720), but only 25 frames per second in Full HD mode (1920 x 1080). Nevertheless, this camcorder is popular with professional film and television companies. The BBC used the HVX to shoot all their coverage of the 2006 and 2010 Olympics, the Fox Television Network is using P2 exclusively at all stations. The camera is now 15 years old! But the HVX 200 delivers one of the best image qualities you have ever seen on 50.00 fps at 1280 × 720 pixel.
---
---
JVC GY-HC 500 and JVC GY-HM 620
For upcoming video productions in UHD quality, Pilentum Television uses the JVC GY-HC 500 camera. This camcorder was presented at the "Consumer Electronics Show" (CES 2020) in Las Vegas and features a 1 inch CMOS image sensor for uncompromised cinema and video production. The JVC GY-HC 500 camera is equipped with a wide-angle 20x optical zoom lens, including triple large rings for zoom, focus and iris. This camera is a hand held camcorder for broadcasting and professional video productions in 4K Ultra High Definition. Video footage is stored on M2 SSD memory cards in ProRes 4:2:2 (10-bit).
Since many viewers do not watch videos provided in UHD quality on YouTube, but use FHD quality, video production in 1920 x 1080 pixel remains a cost-effective way to produce media content. Suitable for this purpose is the JVC GY-HM 620 camera. It is an advanced handheld ProHD camcorder with three 1/3 inch 12-bit CMOS sensors. The camera uses a 23x Fujinon zoom lens. The lens uses an aperture range of only F 1.6 to 3.0. Video footage is stored von SDXC/SDHC memory cards using 50 Mbps H.264, HD MPEG2 or AVCHD formats.
---
---
Panasonic HDC-SD 600
Sometimes a large television camera is not suitable in special shooting situations and locations. So Markus Lenz was looking for a small, compact camcorder. He bought one of Panasonic's finest consumer high definition camcorders, namely the Panasonic HDC-SD 600. The camera is working in 1080p progressive recording mode by using a proprietary variation of the AVCHD format. The camera does record 50 frames per second in Full HD mode (1920 x 1080). Pixel shifting is not used. The focal length is from 3.45 mm to 41.4 mm and the fixed lens is relatively sensitive to light.
The Panasonic model HDC-SD 600, but also the models HDC-HS 700, HDC-TM 700 and HDC-SD 700, make recordings to SD, SD-HC or SD-XC FLASH memory cards. Because the Panasonic HDC-SD 600 belongs to the consumer camcorder sector, there is no electronic viewfinder, no microphone or earphone connectors, no accessory shoe and no manual zoom or focusing ring. Furthermore, the camera is equipped with a 1/4.1 inch image sensor only. At that time, Panasonic switched from CCD to CMOS technology, so the HDC-SD 600 uses a 3-sensor setup, which is called "3MOS". Pilentum Television regularly uses two cameras of this type. More than 200 video productions have been made with the Panasonic HDC-SD 600 camera.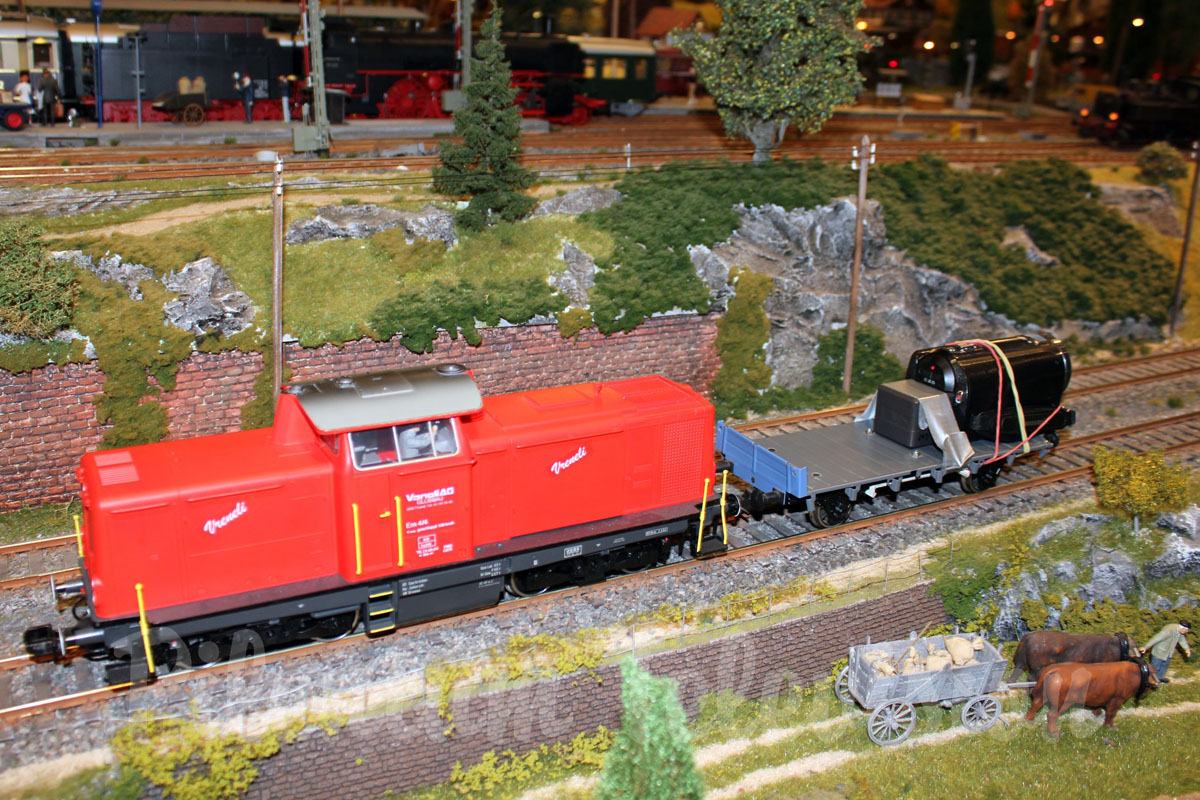 ---
---
JVC Adixxion GC XA 2
A special camera that is used very often in Pilentum Television's videos is the JVC Adixxion GC-XA2. This action camera, optimized with a macro lens, is often used for making cab ride videos in HO scale. When JVC started its first attempt to discover the market for action cameras, the model "Adixxion GC-XA1" has been produced. The first model ("Type XA 1") has delivered a poor image quality and is not recommended! But the video quality of the second model ("Type XA 2") is overall excellent.
The JVC Adixxion GC-XA2 is a small action cam using full-size SD-HC and SD-XC memory cards. The camera has a removable, rechargeable battery. With an 8-megapixel BSI CMOS sensor, the JVC Adixxion GC-XA2 can record in Full HD mode (1920 x 1080) at 50 frames per second. Furthermore, a gyro sensor has been added to improve the camera's digital image stabilization.
---
---
Pedco Clamps & Mounts
An essential accessory for video productions of garden railways and backyard railroads is a clamp tripod. Pilentum Television uses the "Pedco UltraClamp" that allows a camera to be solidly attached to any other object. This tripod is strong enough to support most cameras and camcorders. The UltraClamp attaches to round or flat objects up to 3.8 cm thick. The clamp tripod fits any device with a 1/4 tripod socket.