---
---
Brilliant Micro Model Railway Diorama from Australia made by Kim Marsh (1/32 Scale Model Train Layout)
Pilentum Television » Videos Volume 11 » Video № 534
Description
Kim Marsh, who lives in Australia, has an extraordinary talent for creating intricate miniature models. Traditionally focusing on maritime and industrial objects, Kim Marsh is now more interested in recreating "Australiana", which means houses, farms and industrial buildings typical of Australia. At the National Railway Museum in the Netherlands in March 2023 Kim Marsh presented his latest and very Queensland based model train diorama that is called "Sandy Hollow". With fascinating attention to detail, the master craftsman combined a variety of materials and utilised complex techniques to design and shape this micro model. "Sandy Hollow" features fine figurines driving diminutive vehicles amidst bantam buildings.
Kim Marsh, who has been assembling small scale scenes for about three decades, constructs them from scratch. This involves seeking and photographing inspiring subjects, sketching his ideas, gathering raw materials, then cutting, carving, bending and gluing them into shape. All of his micro layouts are about 90 per cent hand-built. The materials he uses are paper, brass, sheet metal, galvanised iron and wood, especially boxwood, because it is easy to carve and shape. His inspiration is historic home-grown subjects, for example, from crumbling cottages and rusting railways.
Despite diverting from replicas into more imaginative ventures, Kim Marsh's dioramas are, nevertheless, very realistic. His houses, for example, include roof vents, outside water tanks, timber balconies, brick chimneys and shuttered windows with hanging blinds. His miniature worlds are all artificially aged and weathered: Timber fences are typically missing a few palings, corrugated iron rooves are rusted, old chimneys are missing bricks, pallets have broken planks, concrete is cracked and paint is flaking. All elements and details have a weathered appearance.
One wonders how he does this attention to detail. Kim Marsh loves painting and effects. He uses an airbrush, oil paints, water-based paints pigments, coloured pencils and coloured paper. For the rust on the rail vehicles, he primes the surface then applies a rust base colour. After it dries he applies a coat of salt sealed with hair spray. When it dries again he sprays the top colour and when it dries fully, the surface is distressed, revealing the rust colour in a random pattern. The secret to rust looking authentic is the random pattern.
Video

Shopping
» The best deals for model trains and accessories on Amazon (US)
» Auctions for model railroading sort by number of most bids on eBay (US)
» The best offers for model trains and railway sets on Amazon (UK)
» Auctions for railway modelling sort by number of most bids on eBay (UK)
» Auctions for model trains and accessories on eBay (Canada)
» Auctions for model trains and accessories on eBay (Australia)
Images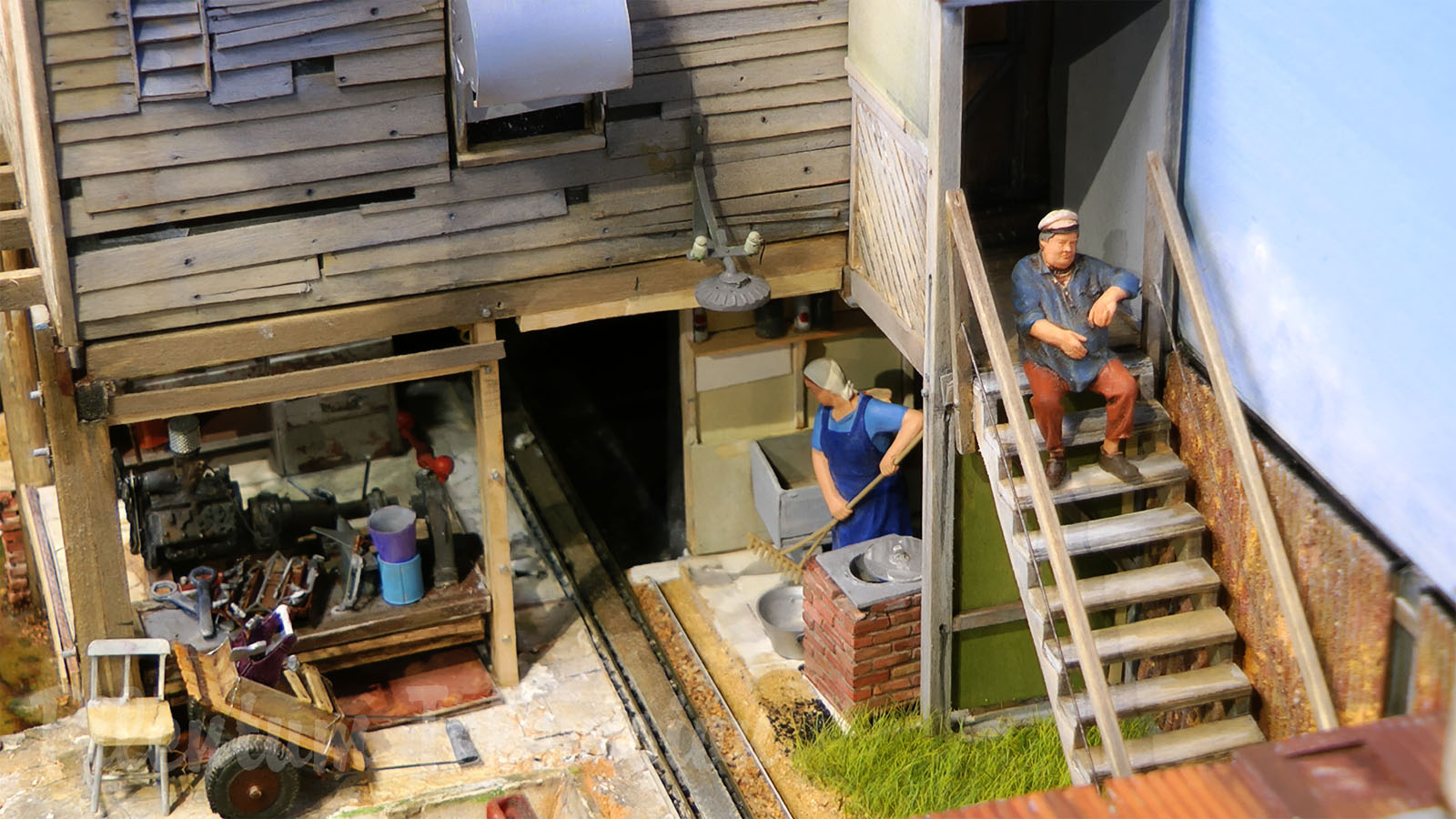 ---
---
You have spent many years building a model train layout? Wouldn't it be nice if you could present your model rail layout to the world? Pilentum Television offers you this unique opportunity: You can reach an audience of millions and present your layout on Pilentum's video channel.
---
Pilentum Television uses cookies to understand how you use this website and to improve your experience. This includes personalizing content and advertising. By continuing to use this website, you accept the use of first and third-party cookies.
PILENTUM TELEVISION
Published: May 1, 2023